AAZK is a nonprofit volunteer organization (U.S. 501c3) made up of professional zoo keepers and other interested persons dedicated to professional animal care and conservation.
AAZK's purpose is to foster a professional attitude in animal keepers and aquarists by encouraging them to become active members of professional teams at today's zoos and aquariums. AAZK supports the promotion and implementation of zookeeper education and strives to make the general public aware of our concern for all deserving conservation projects and the need for the preservation of our natural resources and the species that depend on those resources.
Serving as a professional organization for zookeepers, AAZK is a valuable resource for dedicated animal care workers. AAZK is dedicated to advancing animal care, promoting public awareness, enhancing professional development and contributing to local and global conservation through fundraising and stewardship. Our goal is to inspire and motivate through our roles as animal caregivers, educators and conservationists. Through workshops, conferences, newsletters, and internet forums, AAZK helps animal care staff stay current in husbandry, training, nutrition, and conservation. Well educated keepers using modern techniques means the animals in their care benefit tremendously.
Reminders Board
2013 AAZK National Conference
Greensboro, NC
22-26 September 2013
New Dedicated Issue Available
The new Animal Keepers' Forum issue dedicated to chelonians is available for purchase in our
shop
.
Change of Address
If your mailing or email address has changed, please send an updated address
here
.
Upcoming Conferences
Greensboro, NC September 22-26, 2013 Orlando, FL
September 8-12, 2014
Latest News
Sad Announcement from Lewa
The Lewa Wildlife Conservancy deeply regrets to announce the death of Anna Merz, one of the Conservancy's iconic founders and renowned conservationist. 82-year-old Anna passed away today in a South African hospital, further details pertaining to her death will be communicated later. Anna, along with the Craig family, founded the Ngare Sergoi Rhino Sanctuary, which would
read more…
Applications Now Being Accepted for the Bowling for Rhinos Conservation Resource Grant
American Association of Zoo Keepers, Inc. Bowling for Rhinos Conservation Resource Grant
The American Association of Zoo Keepers, Inc. (AAZK) is pleased to announce the call for proposals for the Bowling for Rhinos Conservation Resource Grant. This competitive grant is designed to fund projects focused on rhino conservation and research. The total amount of funds
read more…
A Word from Anna Merz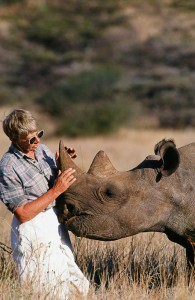 Take just a minute to read these
words
from Anna Merz.