The AAZK International Outreach Committee exists to explore and identify the professional development needs of the international animal care community and to provide educational and mentorship resources that support advances in the field of animal husbandry.
El Comité de Vinculación Internacional (IOC) existe para explorar e identificar las necesidades de desarrollo profesional de la comunidad internacional de cuidado animal y para proporcionar recursos educativos y de orientación que apoyen avances en el campo de manejo animal.
Mission/ Misión
The AAZK International Outreach Committee strives to provide resources, training opportunities, and continuing education in the Latin American zoological community through AAZK professional development material, AAZK Committee Programs, AAZK National Conferences, as well as to support worthwhile international programs focused on advancing the animal care profession.
El Comité de Vinculación Internacional de la AAZK se esfuerza por ofrecer recursos, oportunidades de capacitación, y educación continua en la comunidad zoológica de Latinoamérica a través de los materiales de desarrollo profesional, Programas de los otros comités de AAZK, la Conferencias Nacionales de la AAZK, además de apoyar programas internacionales significativos que están enfocados en avanzar la profesión de cuidado animal.
Vision/ Visión
Through Training Programs, AAZK resources, and networking opportunities, the AAZK International Outreach Committee will become a source of information and reliance for international animal care providers seeking to advance and professionalize the animal care field.
A través de Programas de Capacitación, recursos de la AAZK, y oportunidades para contactar con otros profesionales, el Comité de Vinculación Internacional de la AAZK será un recurso de información y confianza para el personal de cuidado animal internacional que busque avanzar y profesionalizar el campo de cuidado animal.
IOC Teaching Program/ Programa de Capacitación del IOC
The IOC Teaching Program is designed to assist Latin American animal care personnel through instructional courses that focus on natural history, animal welfare, recording keeping, nutrition, enrichment, and training as they relate to animal husbandry and care. Additional topics such as Development of Education Programs, The Importance of Conservation Programs, and Professional Development are also available. The program offers courses aimed at each institutional host's specific needs and can be designed towards their specific goals.
El Programa de Capacitación del IOC esta diseñado para ayudar a personal de cuidado animal en Latinoamérica a través de cursos de capacitación que están enfocadas en la historia natural, el bienestar animal, la documentación, la nutrición, el enriquecimiento y el entrenamiento y como están relacionados con el manejo y cuidado animal. Temas adicionales como El Desarrollo de Programas Educativos, La Importancia de Programas de Conservación, y Desarrollo Professional que también están disponibles. El programa ofrece cursos dirigidos a las necesidades de la institución anfitriona y pueden ser diseñados hacia metas específicas.
To learn more about how the IOC can work with your institution, click below for the Program Instructions and the Program Application.
IOC Teaching Program Instructions
IOC Teaching Program Application
Para aprender más acerca de cómo el IOC puede trabajar con su institución, haga clic en las Instrucciones del Programa y la Solicitud para el Programa.
Instrucciones para el Programa de Capacitación de la IOC
Solicitud para el Programa de Capacitación de la IOC  
For more information, contact IOC Chair, Yvette Kemp at Yvette.kemp@aazk.org
Para mas información, favor de ponerse en contacto con Yvette Kemp, Presidente del Comité,  Yvette.kemp@aazk.org
AAZK Conference Latin America Travel Grant
The International Outreach Committee is dedicated to providing training and educational opportunities for international animal care professionals. The committee's goal is to offer resources and opportunities to improve animal well-being through networking with leaders in the field, while increasing knowledge of wildlife conservation efforts. Currently, the committee is focusing on Latin American countries.
El Comité de Vinculación Internacional (IOC) está dedicado a proporcionar oportunidades de capacitación y educación para profesionales internacionales del cuidado animal. La meta del comité es poder ofrecer recursos y oportunidades para mejorar el bienestar animal a través de la colaboración con líderes en el campo de cuidado animal, mientras que aumenta el conocimiento de los esfuerzos en conservación de fauna silvestre. Por el momento, el comité está enfocándose en países Latinoamericanos.
The International Outreach Committee has developed the AAZK Conference Latin America Travel Grant.  This grant is only available to Latin American keepers. The AAZK Conference Latin America Travel Grant will aid Latin American keepers in financing their travel and expenses associated with the annual AAZK conference.
El Comité de Vinculación Internacional ha desarrollado la Beca para Viajar desde Latinoamérica al Congreso Nacional de la AAZK. Esta beca está disponible solamente para personal de cuidado animal de Latinoamérica. La beca ayudara al personal de Latinoamérica con el financiamiento necesario para cubrir los gastos asociados con asistir al congreso anual de la AAZK.
Deadline November 15
Fecha límite 15 de Noviembre
AAZK IOC Latin America Travel Grant Instruction (English)
AAZK IOC Latin America Travel Grant Instructions (Spanish)
AAZK IOC Latin America Travel Grant Application (English)
AAZK IOC Latin America Travel Grant Application (Spanish)
Latin American Emerging Nations Membership
AAZK and the IOC are excited to announce a new level of membership available to animal care professionals in Latin America. This goal of this membership is to provide a more attainable financial membership to our colleagues in Latin America.
The Latin American Emerging Nation membership is only available to those animal care professionals working at an animal care facility (zoo, aquarium, rescue facility, etc.) from one of the countries listed below. The one-year membership includes an electronic subscription to the Animal Keepers Forum, access to the Member's Only section of the AAZK website, and all the benefits provided to AAZK Professional Members.
For information on how to obtain a Emerging Nation Membership, or how you can sponsor a membership for a Latin American animal care professional, please contact Yvette Kemp at Yvette.Kemp@aazk.org.
Membresía para Países Emergentes
La AAZK y el IOC se complacen en anunciar un nivel nuevo de membresía para profesionales del cuidado animal de Latinoamérica. La meta de esta membresía es para proporcionar una membresía económicamente más alcanzable para nuestros colegas en Latinoamerica.
La membresía solamente está disponible para aquellos profesionales en cuidado animal de Países Emergentes de Latinoamerica  que trabajan en una institución de cuidado animal (zoológico, acuario, centro de rescate, UMA, etc.) y que sean procedentes de uno de los países mencionados abajo. Esta membresía anual incluye una suscripción electrónica a nuestra revista Animal Keepers Forum, acceso a la sección Restringida Para Miembros en la página de internet de la AAZK, y todos los beneficios proporcionados a los miembros profesionales de la AAZK.
Para información de cómo obtener esta membresía, o como puedes patrocinar una membresía para un profesional del cuidado animal de Latinoamerica, favor de comunicarse con Yvette Kemp a través de: Yvette.kemp@aazk.org.
List of Latin American Emerging Nations Countries/de Países Emergentes de Latinoamerica:
Argentina
Belize
Bolivia
Brazil
Chile
Colombia
Costa Rica
Cuba
Dominican Republic
Ecuador
El Salvador
Guatemala
Haiti
Honduras
Mexico
Nicaragua
Panama
Paraguay
Peru
Puerto Rico
Uruguay
Venezuela
AAZK Member Sponsorship Program
AAZK has developed a program where AAZK Chapters can sponsor memberships for Latin American keepers. For an annual cost of $50, a chapter can sponsor 5 Latin American keepers every March, assisting keepers who otherwise could not afford the membership, to be a part of a teaching community that strives to constantly improve animal welfare and  professional development. To learn more about the program and how your chapter can get involved, please send an email to ioc@aazk.org.
AAZK ha desarrollado un programa donde los Capítulos de AAZK pueden patrocinar membresías para cuidadores latinoamericanos. Por un costo anual de $ 50, un capítulo puede patrocinar a 5 criadores latinoamericanos cada mes de marzo, ayudando a los criadores que de otra manera no podrían pagar la membresía, a ser parte de una comunidad de enseñanza que se esfuerza por mejorar constantemente el bienestar animal y el desarrollo profesional. Para obtener más información sobre el programa y cómo su capítulo puede participar, envíe un correo electrónico a ioc@aazk.org.
Education Board Oversight
Russell Pharr
Russell.Pharr@aazk.org
International Outreach Committee 
Chair / Presidente
Yvette Kemp
San Diego Zoo Wildlife Alliance
Yvette.Kemp@aazk.org
Vice-chair / Vice-presidente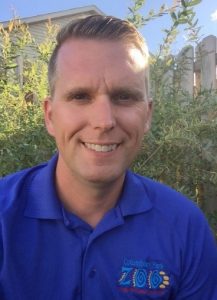 Noah Shields
IOC@aazk.org