Member Resources
Resources for AAZK Members and Chapters are located in the Member Only section of the website. Please login using your Username and Password to find additional member information and helpful Event resources under the Committee and Programs Tab.
Bowling for Rhinos – Conservation Resource Grant

 
BOWLING FOR RHINOS
CONSERVATION RESOURCE GRANT
Application Instructions
AAZK will only consider complete proposals received no later than June 1, of each calendar year for funding.
A.    You must submit the following items:
1.    AAZK Bowling for Rhinos Conservation Resource Grant application form, completed in English (3 pages maximum)
2.    Your resume (3 pages maximum)
3.    Unless you are the executive director, a letter of recommendation from the executive director of your zoo or conservation organization, and/or a letter from an advisor if you are a student
B.    Projects should meet criteria in one of the following four categories:
1.    In-situ Rhino Conservation and Research – field research or conservation project focusing on African or Asian rhino species
2.    In-situ Community, Educational, or Medical Program – community education, school support or medical programs in Africa or Asia
3.    In-situ Species Conservation – field research or conservation project that focuses on any species sharing the same ecosystem with Javan, Sumatran, Black, or White Rhino
4.    Ex-situ Rhino Conservation and Research – zoological research project on a rhino species that partners with a rhino conservation entity operating in Asia or Africa, combined with a tangible benefit to an in-situ conservation project
C.    You need not be an AAZK member or affiliated with AAZK in order to apply, however preference may be given to AAZK Members or Conservation Partners. 

D.    Award announcements will be made on July 1st.
E.    The amount of funding available is based on a percentage of the annual Bowling for Rhinos funds raised.  Specific fund availability can be obtained by contacting Maryann.Cisneros@AAZK.org

Send all application material to:
Maryann.Cisneros@aazk.org
Download the application in Word format.
Download the application in Adobe pdf format.
What is "Bowling For Rhinos"?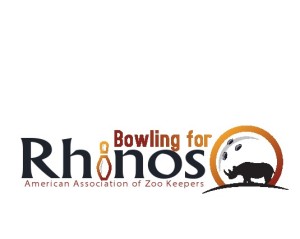 Each year the American Association of Zoo keepers (AAZK) sponsors a fund raising bowl-a-thon called "Bowling For Rhinos" (BFR). Over 80 AAZK chapters participate throughout the US and Canada raising over $500,000 annually. BFR funds support LWC- Lewa Wildlife Conservancy (formerly called Ngare Sergoi rhino sanctuary) in Kenya, Ujung Kulon National Park in Java, Indonesia and Bukit Barisan Selatan National Park (BBSNP) and Way Kambas in Sumatra, as wells as Action for Cheetahs in Kenya, which shares a portion of the land mass with LWC. These sanctuaries not only save rhinos (and cheetahs) but also entire ecosystems – orchids to elephants!
Why save Rhinos?
Rhinos have lived on earth for over 50 million years but whether they survive even 50 more years is open to speculation. Only 5 species of rhino exist today when once there were over 100 species. All 5 species- the white, black, greater one-horned, Sumatran and Javan are endangered. Only the white rhino with a population of 4,600 seems to be somewhat safe from extinction. In 1960, 60,000 black rhinos roamed Africa. Today only 2,500 remain in isolated populations. On the Asian continent, the greater one-horned population remains at 2,000. The Sumatran species numbers around 200 and the Javan species has fewer than 60 animals.
The black rhino is a symbol of conservation in Africa as our bald eagle is to those of us in the United States. If the black rhino were to go extinct what message would we give our children? The rhino is a large, flagship species. By striving to save the rhino, we save large expanses of habitat. By saving these habitats, we are saving many endangered species, not just the rhino.
The rhino is our link to the dinosaurs as it has lived on earth over 50 million years but it can not survive guns and man. The rhino is killed for its horn to be used in oriental medicines and as symbolic dagger handles. So valuable is the horn to poachers that the rhino can not survive unless it is on protected sanctuaries such as LWC and the Indonesian parks. "BFR" money is used to fence in these areas, purchase planes and land rover vehicles to curtail poaching, translocate rhino into the sanctuaries/parks, purchase trip cameras for censusing, and salaries for anti-poaching security guards to name a few.
The black rhino is AAZK National's symbol and we believe we have an obligation to save it and the other rhino species from extinction. Through our efforts, we feel we can save valuable habitats and the animals living in their safe havens for future generations to enjoy.
Where do Bowling For Rhinos Funds go?
100% of all funds raised goes directly to in situ conservation projects, conserving four species of rhino, their habitats, and hundreds of other endangered plants and animals. BFR helps preserve the black and white rhino in Africa and the Javan and Sumatran rhino in Indonesia.
In 1994, "BFR" expanded their funding efforts to include Ujung Kulon. This is a 300 square mile National Park on the island of Java (Indonesia) which is home to some of the rarest animals on earth! Ujung Kulon supports the last 47 Javan rhinos in the world (with a few discovered in Viet Nam), 40 species of mammals, 250 species of birds, many rare amphibians and reptiles including the green sea turtle. In fact, Java is home to one eighth of the world's mammals, birds, reptile, amphibian and plant species although it only occupies one percent of the globes land surface!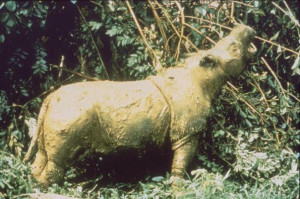 In 1997, "BFR" again expanded their funding efforts to include Bukit Barisan Selatan National Park (BBSNP). This is a 3,568 square km protected area on the southwest side of the island of Sumatra. Asian elephant, tiger, clouded leopard, Malayan sun bear, Indian wild dog and a substantial number of the estimated 200 Sumatran rhinos live within this park. $25,000/ year is needed at BBSNP to provide additional patrol stations, patrol equipment and training of park guards in anti- poaching skills.
There is now an Indonesian Rhino Conservation program (IRCP) that includes all parks with rhino populations. This program will allow funding to be used on top priority needs in top priority locations to conserve wildlife. BFR is part of this program. This allows unused funding in any given year to go through IRCP to be reallocated to these top priority locations. This allows BFR to expand funding to include such places as Way Kambas (Eastern Sumatra) that has a large population of Sumatran rhinos. Way Kambas has the 3rd or 4th largest population of Sumatran rhinos in the world and is a crucial nucleus for the survival and recovery of this species. Currently, the best use of and greatest need for the BFR funds is to be used to establish more anti-poaching teams in Way Kambas.
Our two primary rhino conservation partners (LWC and IRF) split funds raised from BFR equally, with each receiving a 45% share.  Action for Cheetahs in Kenya receives an 8% share. The final 2% of monies raised are then set aside for fund the BFR Conservation Resource Fund Grant administered by the AAZK.
Are donations to Bowling For Rhinos tax deductible?
Yes, BFR is covered under AAZK's Federal Non-profit Tax Identification Number 23-7274856. As a Non-profit all donations to BFR are tax deductible and a portion of your Bowling or other event fee may be deductible – check with your local event holder.  Please check with your employer to see if they have a matching gift program as an easy way to double your donation to Bowling for Rhinos.
How can I help?
You can help immediately by selecting the "Donate Now" button on this page and make a personal donation online that is tax deductible. You can also participate by bowling in your local AAZK Chapter's or facilities Bowling For Rhinos fundraiser or by sponsoring someone who is bowling. Click here to locate an event nearest you. You can then contact that chapter to obtain the dates of a local event.
Do you need to be an AAZK member to bowl?
No. Anyone can join the bowl-a-thon (or other events) and have fun.
How many chapters participate?
Approximately 80 AAZK Chapters, zoos or aquariums participate each year  in U.S. and Canada.
Why not bowl for a different animal each year?
BFR saves rhino habitat. By preserving habitat, this protects every species within the habitat. Bowling for Rhinos saves everything from orchids to sea turtles to elephants. By providing safe and secure habitat AAZK's Bowling for Rhinos protects both elephants and rhino from poaching. Lewa Wildlife Conservancy is home to the largest wild population of Grevy's Zebra in Africa. Bowling for Rhinos also saves diverse wildlife such as cheetah, Sumatran tigers, Malayan sun bears and tapirs, Javan gibbons and the coral reefs, just to name a few.
Want to Host a Bowling for Rhinos Event in Your Community?
Contact Ed Hansen at Ed.Hansen@aazk.org
Where can I get more information?
You can find out more through some of the programs that we participate in, www.lewa.org, www.rhinos-irf.org and www.actionforcheetahs.org