Mission Statement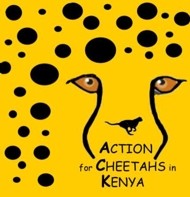 The mission of Action For Cheetahs in Kenya is to promote the conservation of cheetahs through research, awareness and community participation in Kenya. ACK works closely with local wildlife authorities and landholders to develop policies and programs that support wildlife conservation and human livelihoods for the long-term development of sustainable human and wildlife zones.
Goals
1.To evaluate cheetah habitats, and to assess human interactions and tolerance in areas that support cheetah populations on ranchlands and wildlife dispersal areas. This includes: The study of demographics through tracking resident cheetahs; and Long term monitoring of selected cheetah populations and specific trans-located animals.
2.To develop protocols and research programs for the evaluation of cheetah health and genetics. This includes: Opportunistic sampling (necropsy, orphans, etc.); and Formally planned sampling (collaring target cheetahs, specific biomedical collections, fecal collections, etc.).
3.To establish and link with community development projects for sustainable land and wildlife practices in order to promote tolerance of the cheetah as part of a balanced ecosystem. This includes: Snare removals, tree planting, bee keeping, livestock management, etc.
4.To support the development of student initiatives in the research of human/wildlife ecology in regions where cheetah populations are sustainable.
5.To establish partnerships with other conservation and education initiatives to further develop projects and programs for the benefit of the cheetah.
History
Action for Cheetahs in Kenya is a relatively new not-for-profit entity. It was originally known as the Cheetah Conservation Fund-Kenya and was supported in part by CCF. As the economy took a downturn in 2008, CCF decided that it needed to cut back on its international programs in order to continue to concentrate on its core program in Namibia. Funding was discontinued in to CCF-Kenya in January of 2009 although ACK remains affiliated with CCF as colleagues and advisors in saving Kenya's cheetahs. Action for Cheetahs in Kenya operates as a partner under the new non-profit organization of Carnivores, Livelihoods, and Landscapes (CaLL). The purpose of CaLL is to link carnivore conservation efforts in Kenya.
Programs
While essentially still in its infancy, ACK is actively continuing the programs it started when associated with CCF. These include cheetah collaring, research and monitoring, as well as community outreach and education. Some of the projects include workshops on livestock dipping for improved husbandry. This project just recently concluded and ACK conducted a series of training workshops to train the managers on the functions and maintenance of the dips, basic book keeping, project planning and stock taking. The final workshop (8-9 March 2010) of the project presented the management with the positive direction they have come in running a sustainable business as dip managers. They were also told the improvements they need to make in order to remain sustainable.
Each dip sent three representatives to the workshop. Presentations were given by the District Veterinary Officer, the Livestock Extension Officer, Ultravetis representatives, and Kenya Wildlife Service. Cosmas Wambua and Lumumba Mutiso from ACK presented information on farm management for the future of the region. Two area chiefs also attended the workshop.
While 85% of the people interviewed at the dips in the months of August – December 2009 felt that the current management of the dips is sustainable, they also felt that the managment had more improvements to make. 98% of the interviewed people stated that the impact of cheetah conservation in the area had a positive effect on the community in terms of the sustainability and in the awareness about the environment.
ACK also actively works at understanding how cheetahs share the land with humans in developed areas. To that end they have collared cheetahs to study their movement patterns. The collar sends the cheetah's location to ACK regularly via SMS messaging.
For more information on Action for Cheetahs in Kenya and its programs please visit their website at www.actionforcheetahs.org.